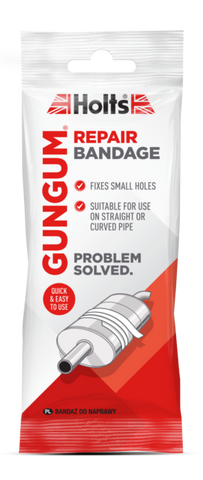 Holts Gun Gum Silencer Repair Bandage
£2.96
What is Gun Gum Repair Bandage GG8RA?
Damage to your exhaust doesn't have to cost the earth to repair. The Holts range of Gun Gum exhaust repair products makes it easy for you to fix any section of exhaust on your driveway.  The Gun Gum Bandage has been developed to repair small holes for a gas tight seal in minutes. The bandage is easy to use; simply moisten and wrap around the hole, then allow to dry and harden. Problem solved.
For large cracks and splits use a metal Gun Gum Repair Bandage from our range below.
Fixes small holes
Suitable for use on straight or curved pipes
Quick and easy to use
Get an easy repair solution for your silencer with Gun Gum Repair Bandage.