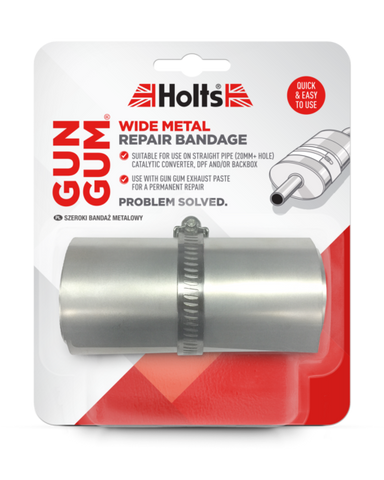 Holts Gun Gum Wide Metal Repair Bandage
£8.43
What is Gun Gum Wide Metal Repair Bandage HL1R6?
If your exhaust silencer has a hole, split or crack in it, the Gun Gum range of exhaust repair products has everything you need for an easy and permanent repair. Our specially developed Metal Repair Bandage is an easy to use solution for wide, straight pipes. Always use together with Holts Gun Gum paste for a permanent, gas tight seal.
Gun Gum Wide Metal Repair Bandage is fully flexible, so you can adjust it to the size of your exhaust silencer. There's no need to dismantle your exhaust, making it ideal for home repairs. Simply apply Holts Gun Gum paste and fit the flexiwrap over the damaged area for a permanent gas tight seal in minutes.
Suitable for use on straight pipes, (20mm+ hole), catalytic converters, DPFs and/or backboxes
Use with Gun Gum exhaust paste for a permanent repair
Quick and easy to use